Why paperpile?
Mar 7 2018
Journals today mostly publish our academic papers as PDFs. This is great for us, as we can easily store most of our papers locally on our harddrives, rather than relying on a physical copy of each paper. However, managing such a collection of PDFs quickly becomes cumbersome. Many software solutions are available for managing your PDFs. One application that I've found very useful is Paperpile. There is a snappy 2 1/2 minute video that shows it in action:
When visiting a web page containing a paper (e.g. from a journal web page), you can click on the Paperpile button in your browser to download the paper and its metadata. It also adds Paperpile import buttons on sites like Google Scholar, arXiv and PubMed to easily import data. Below is partial output from arXiv – at the end of each Subjects line you should see the "+ Paperpile" button (circled here in red) that you can click to add the article to your collection.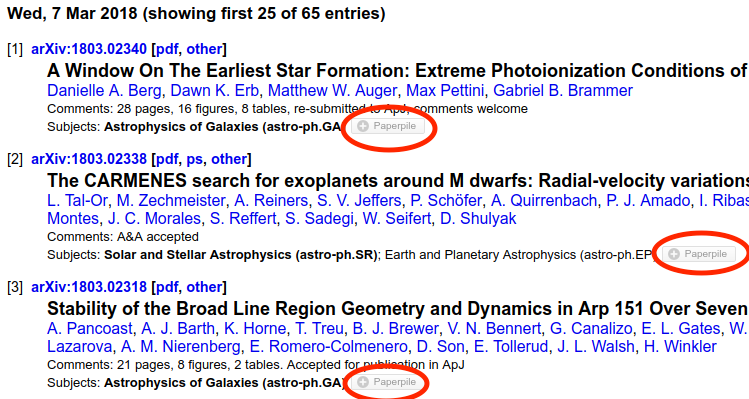 Here are some of the reasons I like paperpile; I also mention some current limitations at the end.
BibTeX support
Paperpile has first class support for BibTeX references. If you use LaTeX, you will never need to hand-write a BibTeX reference again. Here is an example BibTeX reference exported from Paperpile:
My workflow is that I create a Paperpile tag for each paper that I'm writing, and mark the papers I'm referencing with that tag. I can then easily select all the papers with that tag, and export all those references as BibTeX entries, and copy them into my BibTeX file.
By default, the tag used for a BibTeX reference is automatically generated, e.g. Damani2011-99e above. The -99e suffix is a hashcode, which I used to find a bit irritating as you can't remember them, but now I simply use my latex editor (Emacs) to look up the BibTeX keys anyway. If you prefer your own BibTeX tags, you can edit the metadata.
If you are not a BibTeX user, then you might find the Google Docs plugin useful for writing papers with references. (See below for Word users…)
Sharing papers with others is easy
Before using Paperpile, if I wanted to share a paper with a colleague, I'd email it to them. Works fine, but then your inbox gets clogged up with lots of emails containing large PDF attachments. Paperpile allows you to share links to papers. E.g. here is a link for the Damani et al. paper. Furthemore, this extends to sharing multiple papers at once. For example, if you organise papers into folders, you can freely share the PDFs in a folder by sharing the link to that folder. Here is an example of a folder link that I created to accompany a tutorial. This is an excellent resource for sharing papers. You must however actively create a link to share your papers – by default, everything is private to your account. Papers can be shared with named individuals or to anyone who has the corresponding link.
It tidies your pdf collection
If you have a large collection of PDFs living in some folder on your laptop, you can import them directly into Paperpile. It does a very good job at extracting the metadata from PDFs (but of course this is dependent on the quality of the PDF). Your PDFs live on Google drive and organises them into folders, one per letter of the alphabet, such as Google Drive / Paperpile / AllPapers / D / Damani et al. 2011 - Age-related alterations in the dynamic behaviour of microglia.pdf
So, even if nothing else you can get your PDFs reorganized. (To sync this google drive on your laptop, use Google Drive.)
It is very slick at what it does
Other reference managers are available, e.g. zotero, but I've found paperpile to be incredibly efficient at organising papers. The interface has been designed with care. The Paperpile team are efficient at answering queries, and there is a useful forum for discussions and requests.
Why not paperpile?
Paperpile isn't perfect (yet). Some reasons that you may need to consider:
It does not yet have a Word plugin, so you can't seamlessly write manuscripts in Word and include references from paperpile. I believe there is a Word plug-in coming soon though, which hopefully will look something like the Google docs plugin.

You must use the Google Chrome web browser to access Paperpile. Support for android and ipad devices are also in the works.

Cost. Paperpile costs about $3/month, which although not expensive, is more than some of the competition: zotero and Mendeley are free. Individuals can get a free one-month trial to evaluate it. Note however that members of the [Mathematics Faculty can use our site licence] (/2018/04/03/paperpile-at-cambridge-maths-faculty/).

You need to be online to use it. (In this case I recommed you use Google Drive to ensure you have the Paperpile folder synced to your laptop so that you can always read your papers.)
Summary
Paperpile is an excellent tool for managing your academic references.
For Cambridge readers
The Maths faculty at the University of Cambridge are trialing a site licence for a year to assess its utility. We would encourage other departments around Cambridge to consider joining in. Please contact me for further details.